Can Jodēi Zaleski do hair? Check out this new article series that's a blend of IRL and IG as Jodēi attempts modern Pinterest hairstyles.
- From :
The Dragon's
Lair
Hair
Written By:
Jodei Zaleski
Produced By:
The Social Media Team
Hello everyone! Today, I am introducing a brand new Blog Series called, "The Dragon's Lair Hair". In this series, I am going to be testing out some Pinterest hair tutorials. They certainly look simple enough, but I've seen enough Pinterest fails to know that they probably won't be.

Today, I am going to be attempting this "Starburst Swirl Princess Bun". It doesn't look that complicated... but can I pull it off? The entirety of my life has been leading up to this moment. Can I impress you all? Will my hair look amazing? The real challenge begins now.
I started by brushing out my hair. I'm not used to having straight hair instead of curly, so this was an interesting adventure in itself. Then I pulled it up in that weird half ponytail thing with the rest of the hair just kinda flopping (real articulate I know XD). Then I took a break for a burrito, because, like, food. I then braided my hair twisting it around... #nailedit.
The next step, I decided, would be adding just a few curls to the front pieces of my hair. I figured it would make me look elegant.... Let me show you what happened...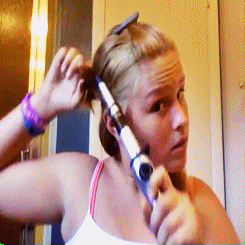 See that clump of burned hair falling away? Yep... that's how that went for me. So needless to say I won't be winning any hair contests, but it was certainly worth a shot. I feel very fabulous, even with several clumps of hair missing. Plus, I mean, my friends will still love me with this hair (I hope).

Want to be a part of our next, "The Dragon's Lair Hair", post? Contact Jodei Zaleski. I promise your hair has a 75% chance of turning out better than mine did :P.
Interested in writing blog posts like this one? Apply for the Social-Media Team today! We're now hiring! Contact Jodei Zaleski with any questions or to apply. 
Code: Lux Design