For this blog series, I will use a question randomizer in order to find completely random questions to ask WoA members. There will be some weird questions and some weird answers.
- From :

Hello and welcome to our first edition of "Eccentric Exchanges"! If you like it, please leave a comment down below! Thanks!

Jodēi:
Let's all say hello to the fabulous, Mr. Charlie Androuet! Thank you for letting me interview you today, Charlie! I just want to prepare you a little bit for what you're in for. This blog series you are participating in, is called, "Eccentric Exchanges". Basically, I am going to ask you some of the most random questions I can think of. So they are going to be really weird and maybe even really confusing! Please buckle yourself into your answering-chair and prepare to have some fun! Question number one... What would a world populated by clones of you be like?

Charlie:
Well I dread to imagine what a world populated by clones of me would be like. I argue with myself enough without having physical copies of myself to argue with. I think it would be highly efficient and productive. I run Imperial in a very regimented manner, my classes are always fashioned to be effective for optimal retention. So I reckon it would be a sword slinging chaos at times but overall, we'd get the job done. No matter the cost.




Jodēi:
What is the most embarrassing thing you own?

Charlie:
Embarrassing thing I own ... a frilly shirt? I was once told that it was the utmost height of modern fashion to wear a frilly shirt with ones indoor jacket. I now realise this to be a mistake. Tunics are more in fashion at the moment but alas how things change.

Jodēi:
What's something that everyone knows is true, but we don't like to admit it?

Charlie:
Hmmm that Imperial is by far the best and fiercest army out there. Shameless promotion for Imperial army there.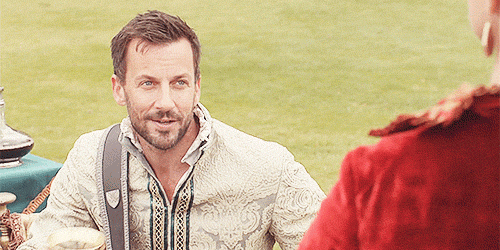 Jodēi:
Is it better to be a big fish in a small pond or a small fish in a big pond?

Charlie:
Interesting question. I see benefits to both. Big fish in a small pond still means you are a leader in some regards and that demands respect. Now whilst you may be small in a big pond and that demands dignity as does the previous, it doesn't always mean you are respected and so I would say it is better to be a big fish in a small pond.

Jodēi:
When was a time you acted nonchalant but were going crazy inside?

Charlie:
Does whenever I see the damn King/Royal Pain in the Arse count as an answer? I sure hope so. Drives me insane the fella.

Jodēi:
Sounds like you may have a little crush on him. What's the worst backhanded compliment you could give someone?




Charlie:
A crush?! Dear woman a preposterous notion if I do say so myself. If i could crush him I would but I fear we are speaking of different crushes. A backhanded compliment you say? "Great job but I would do it this way" to me there is no higher disrespect than to have someone soften the blow with a compliment and then say they would have done something completely different. It means the compliment was redundant and completely unnecessary.

Jodēi:
Well that is all for today, thank you so much for joining us, Charlie, on "Eccentric Exchanges". Were the questions are strange and the answers are stranger.